Cardtorial is now in stores!
How exciting.
Timeless Treasures, a Pac Heights neighborhood gem (think Anthropologie meets whimsical, cozy vintage shop), has just begun to carry Cardtorial cards.  Joan, the wonderful owner of Timeless Treasures, takes such great care in curating and presenting the goods in her store.  They have a whopping 5 stars on yelp (http://www.yelp.com/biz/timeless-treasures-san-francisco). We really couldn't think of a better store to launch in!
How it went down:
I had been putting off talking to stores for a number of weeks because I didn't feel quite ready.  I had been thinking about it but I needed make my website, prepare my look book,  figure out what to say, where to go, etc.  It was such an intimidating task, I kept on finding reasons to wait another week.  And so the weeks passed.
With Mother's Day fast approaching and a stack of Mother's Day cards staring me down from the corners of my room, I finally decided it was time to get up and go.  When I arrived at Timeless Treasures, I awkwardly lurked around the store.  It really was awkward lurking; I felt like I was canvassing again. At first, I was greeted with complete skepticism when I told the employee I was a local San Franciscan designing greeting cards.  But after whipping out my handy dandy (and somewhat bootleg) sample binder, she completely came around.  Hooray!!  While the store owner was the ultimate decision-maker, this was a step in the right direction
The next day, I got a voicemail from Joan (the owner).  I wish I could embed voicemail here.  Listening to it made me so happy.  I wanted to forward it to anybody. Everybody!  I just wanted somebody to share in the excitement with me. She thought the cards were very special and left such an enthusiastic message.  It's one thing hearing compliments from your friends.  Another to hear it from strangers.  And yet another to hear it from a successful store owner that has an eye for curating things that people love. Woot!  After productive conversations, logistics, and crafting, Cardtorial cards are officially in store. 🙂
The Mother's Day cards were featured in the most recent store newsletter!  You should definitely stop by Timeless Treasures to see what wonderful things they have up their sleeves (and to see our goods, of course).
Below is the newsletter clip.  Our first "official" shout-out.
XO,
Cardtorial
__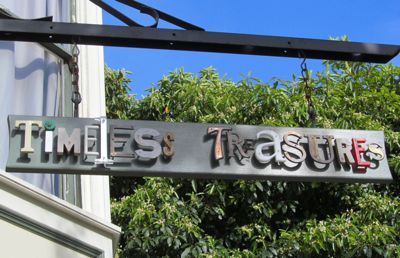 Good morning on what looks to be the start of a "typical" April day here in San Francisco. . . breezy and showery to start, and then, if we're as lucky as yesterday, a gorgeous few hours in the afternoon. 
With Mother's Day just a little more than 2 weeks off (Sun., May 13), we've stocked up on cards and gifts for you to honor and celebrate your mom, as well as to show gratitude to any woman who has been "like a mom" to you over the years. 
And we aren't ignoring your desire for a unique gift for your best pal who will celebrate a birthday soon, or something to add pizazz to your placeas you make some changes before summer starts.
. . . . . . . . . . . . . . . . . . . . . . . . . . . . . . . . . . . . . . . . . . .
Cards that'll have Mom bragging about your thoughtfulness
Let's face it. Now that most communication comes down to email or texting, a greeting card that arrives in the mail or accompanies a hand-delivered package is among life's finest little pleasures.
At Timeless Treasures we are simply wild about distinctive, high quality cards. We take great joy in coming up with new, imaginative designs that will delight you, as well as your friends and family.
Just in time for Mother's Day, we discovered the marvelous talent of Yvonne Leung, a San Francisco artisan who produces fun, unique cards made of wood.
      *Her styles that mimic the format of an eyesight test chart (below, left) are especially clever and charming.
     *Smitten with elephants or giraffes or chickens? Come and check out Yvonne's mama-and-offspring designs.  Shown below, right, are her elephants.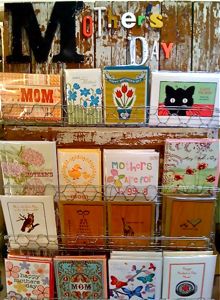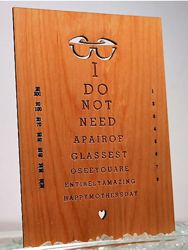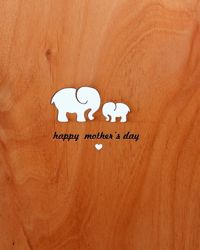 text above, left:  I DO NOT NEED A PAIR OF GLASSES TO SEE YOU ARE ENTIRELY AMAZING. HAPPY MOTHER'S DAY
 . . . . . . . . . . . . . . . . . . . . . . . . . . . . . . . . . . . . . . . . . . . . . . . . . . . . . . . 
---
Timeless Treasures is open Monday – Saturday from 11:00 to 6:00 and on Sunday from 1:00 to 5:00.  We hope you'll stop by and see what we've got in store for you now. 
Happy weekend!
http://www.timelesstreasuressf.com/